Which Mitsubishi Models Have the Best MPG?
Mitsubishi's vehicle lineup offers several options that are ideal for buyers who prioritize great fuel economy. Whether you choose the small Mirage sedan or a more spacious crossover like the Eclipse Cross, you can get behind the wheel of a vehicle with strong gas mileage in Delray Beach. Here are some of the most fuel-efficient Mitsubishi cars and some tips on how to improve your gas mileage, put together by your auto experts at Performance Mitsubishi in Delray Beach.
Mitsubishi Mirage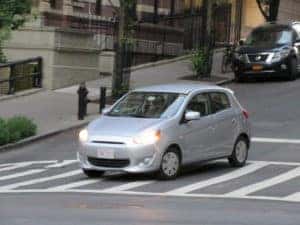 The Mitsubishi Mirage achieves an incredible 43 mpg on the highway in its hatchback configuration and a still impressive 41 mpg for the slightly larger Mirage G4 sedan. The main reason for the Mirage's gas mileage numbers is its efficient three-cylinder engine, which produces 78 horsepower.
The Mirage is a good car for city driving due to its compact size. The Mirage G4 has just over 12 cubic feet of storage at the rear. If you require more space for your things, the Mirage hatchback has over 17 cubic feet of space and a foldable second row, which can open up 47 cubic feet.
Mitsubishi Outlander Sport
If you require a larger vehicle than the Mirage, the Outlander Sport is worth considering. The Outlander Sport achieves 30 mpg on the highway in its front-wheel-drive configuration. If you require the added control provided by all-wheel drive, highway gas mileage drops to 29 mpg. In the city, you'll either get 24 mpg in front-wheel drive or 23 mpg with all-wheel drive.
The Outlander Sport's powertrain is led by a 148-horsepower engine. Inside the cabin, there's room for up to five passengers across two rows. At the rear, you'll find at least 21.7 cubic feet of storage space, which is enough for a large load of groceries or luggage for a weekend trip. If you require more space, fold down the rear row of seats to open up 49 cubic feet of space.
Mitsubishi Eclipse Cross
The Eclipse Cross offers you a little more space than the Outlander and is just about as good when it comes to gas mileage. It achieves up to 28 mpg on the highway and 25 mpg on city roads. Under the hood, the Eclipse Cross is powered by a four-cylinder engine that pumps out 152 horsepower. It can also tow up to 1,500 pounds, which is more than enough for a small camper or boat.
Inside the cabin, five people can ride in comfort. With the rear seats in use, you can fit over 23 cubic feet of cargo at the rear. If you fold down the rear row, over 50 cubic feet of cargo space opens up, which should be enough to transport larger household items.
Mitsubishi Outlander
Even though the Outlander is a three-row SUV, its fuel economy numbers don't disappoint. This is mainly thanks to its four-cylinder, 180-horsepower engine, which provides enough power to move this vehicle around economically.
The Outlander manages 31 mpg on the highway and 24 mpg on city roads. If you opt for all-wheel drive, you'll still get 30 mpg on the highway, which is pretty impressive for a three-row crossover.
Inside the cabin, up to seven passengers can travel. If you need maximum storage capacity, you can fold down the second and third rows to create 79.9 cubic feet of storage. Even with all three rows in use, you still have over 11 cubic feet of space, which is sufficient for a few bags.
How To Improve Your Car's Fuel Economy
Whichever fuel-efficient Mitsubishi you choose, there are several tips you can follow to ensure that you get the best possible gas mileage from your car. The first piece of advice is to stick to a regular schedule of routine maintenance. Frequent oil changes, tire rotations, and fluid top-ups ensure that your car's components and systems perform to an optimal level. By contrast, running your engine with old engine oil can cause unnecessary friction, which reduces the power produced by the engine and decreases your fuel economy.
Another critical piece of car maintenance to take good care of is your wheel alignment. Our trained service technicians can perform a simple alignment test in a few seconds to determine if everything is in order with your wheels. It's wise to have this test performed regularly, since potholes, speed bumps, and light collisions can knock your wheels out of line. Misaligned wheels can have a negative impact on a large number of your car's components, and they also reduce the efficiency of your ride.
Another tip to follow is to clear all unnecessary clutter out of your car. It may not seem like much, but if you're regularly traveling around with a roof rack, cargo box, and other items you don't use on a daily basis, it can significantly increase the weight and drag of your vehicle. The heavier your vehicle is, the more fuel it will require to travel.
A further helpful idea is to shut off your engine when your car is idling. For example, if you're picking up your kid from school or a friend's house, turn off the ignition while you wait on them to arrive. The engine still uses fuel when your car is idling, which wastes gas.
Finally, keep an eye on your tire pressure with a pressure gauge. You can buy one at most auto parts shops or hardware stores. Tires with low pressure reduce the efficiency of your vehicle considerably. In addition, poorly pressurized tires can be a safety risk because they reduce the control you have over your vehicle.
If you'd like further fuel efficiency tips or advice on which Mitsubishi vehicle to pick from our new lineup, don't hesitate to reach out to our auto experts. Here at Performance Mitsubishi in Delray Beach, we'd be delighted to help you find your dream ride. We can arrange a test drive for you so you can see how an Outlander or Mirage performs on the road before you commit to a purchase. Contact us by phone or online, or drop by our Florida dealership to learn more.
Mitsubishi Mirage by Jason Lawrence is licensed with CC BY 2.0